Punto de encuentro
Trove





Thirsting for danger and lusting for loot? Grab your friends, hone your blades, and set off for adventure in this free-to-play action MMO. The Sun Goddess has shattered the world into infinite realms. Now they're yours to explore, build, and protect – all in the name of fun!
Análisis de usuarios: Mayormente positivos (9,710 análisis)
Fecha de lanzamiento: 9 jul. 2015
Etiquetas populares para este producto:


[url=http://store.steampowered.com/tag/es/Free to]Free to Play[/url]Mundo abiertoAventuraBuilding
+
Inicia sesión
 para añadir este artículo a tu lista de deseados, seguirlo o marcarlo como que no estás interesado.

[size=21]Jugar a Trove
FREE
 to Play
Jugar




Comprar Trove: Arcanium Expedition Pack


Purchase the Trove: Arcanium Expedition Pack today!


19,99€




Añadir al carro
[/size]
No sePUEDE
 efectuar un reembolso en este artículo. Más información




Comprar Trove: Power Pack


Purchase the Trove: Power Pack today!


19,99€




Añadir al carro
No sePUEDE
 efectuar un reembolso en este artículo. Más información
Contenido descargable para este juego
19,99€
Trove: Arcanium Expedition Pack
19,99€
Trove: Power Pack
39,98€
Añadir todos los DLC al carro 
Ver todos (14)
Recomendado por mentores
"This is one of the best games around. MMORPG that is going places. Very strong community and lots of fun. Addiciting and will keep you busy. 10/10!"
18 de julio
/announcements/detail/795233827086899911]Online - Authentication Server Issue - 7/18/2015 5 PM PDT / 12 AM GMT
UPDATE
 We're online and stable. We're keeping a close eye on everything, including getting in game and checking for lag, or trouble joining Club Worlds. 
Thanks so much! 
Hey folks, 
We've had an authentication server crash, and we're in the process of bringing it back online now. Down time is expected to be under two hours. 
Please bear with us. 
Thanks!
109 comentarios
/announcements/detail/795233827086899911]LEER MÁS
18 de julio
/announcements/detail/795233827085960574]Maintenance - 7/18/2015 11:05 AM PDT / 6:05 PM GMT
Update 3: And we're back! The hotfix we rolled out should be a huge step in the right direction for making sure everyone can load into worlds more quickly, even with huge numbers of
PLAYERS
 online. Thanks all! 
Update 2: Hi all! I wanted to post a quick update to let everyone know what is happening. While working to resolve the previous issue with Club Worlds that caused performance
ISSUES
 for everyone, we found the source of the bug. 
We're actually in the process of creating a hotfix for this right now. To be sure we get this hotfix rolled out properly, please hang in there a bit longer. Our new ETA to come back online is 2:30 PM PDT / 9:30 PM GMT. 
Update: We expect to be back online around 1:45 PM PDT / 8:45 PM GMT. I'll post an update as soon as possible if that is extended, or if we finish up early. Thanks everyone! 
Hi everyone, 
To make sure we have taken appropriate steps to reduce some of the issues you experienced yesterday, we are bringing the servers offline and performing maintenance to improve
HARDWARE PERFORMANCE
 in a few minutes. 
Avarem has posted specific details about what we're working to resolve on our forums, so please check that out as well, if you get a chance. 
We will do our best to keep the down time to a minimum, but I do not yet have an estimate for when they will be brought back online. 
Thanks!
961 comentarios
/announcements/detail/795233827085960574]LEER MÁS
Acerca de este juego
Grab your friends, hone your blades, and set off for adventure in Trove, the ultimate action MMO! Battle the forces of Shadow in realms filled with incredible dungeons and items created by your fellow players. Whether hunting treasure in far-off lands or building realms of your own, it's never been this good to be square!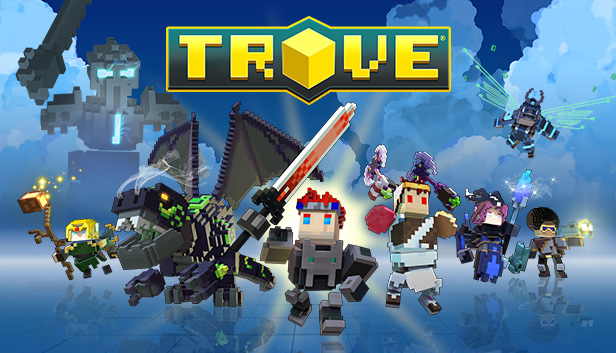 Cubular Classes
Play as a Knight, Gunslinger, Ice Sage, Dracolyte, Pirate-with-a-parrot, or any (or all!) of the other Classes in Trove while mastering abilities from deadly ninja techniques to deliciously deadly ice cream crushes. Upgrade your gear to tackle epic challenges and strut your stuff with killer looks. 
Infinite Realms
Explore through fully destructible realms on the backs of fire-breathing dragons and purrfectly whiskered Meownts. Jump into action tailored to any level as you conquer untamed wilds from the Treasure Isles to Candoria, home of the sweet-toothed Candy Barbarians. 
Delve into Dungeons
Assemble a group of hardy cube-kind and crawl your way through huge dungeons unique to each realm. Brave deadly minions, bosses, and traps to "liberate" powerful armor and weapons, or dip into smaller Lairs for single servings of danger perfect for solo fun.
Get Rich with Loot
Rake in a shimmering hoard of treasure and collectible items from the deepest and darkest places in Trove. Load up on special gear, costumes, decorations, recipes, crafting ingredients, flying carpets, sea-faring ships, and dragons of mighty renown.
Build Your Home…
Cornerstones are
PERSONAL
 homes you can build block by block, but they're also mobile bases! Drop your Cornerstone at specially-marked plots in any world you're visiting, and voilà: your hand-crafted home-away-from-home will appear, giving you a place to kick back, relax, and craft to your heart's content. 

Build a World…
What's better than crafting alone? Building entire new Club Worlds with friends. Feel like making enormous geodesic domes in the desert? Magnificent castles in the sky? Do it – and land yourself in our list of the cubic masterpieces in Trove! 
Build Anything in the Game!
Dragons? Check. Bacon swords? Yup. Rainbow-grade 3D glasses of insufferable doom? Just the tip of the iceberg! Collect a HUGE range gear made by your fellow players and make and submit your own items – including Dungeons, Lairs, Class Costumes, and more. 
Plus
Music Blocks, Meownts, Fishing, Farming, Pets, Sailing (with Boats!), Flying (with Wings!), Mag Trains, Dance-Pads, Heroes, Villains, Allies (who might be Villains), Flasks, Bombs, Piñata Parties, and the Crafting of any and all Things.
Did we mention it's free to play?!
LEER MÁS
Requisitos del sistema

MINIMUM: 



OS: Vista 32-bit Service Pack 2 

Processor: Intel Core i5-2XXX @ 2.0GHz / AMD Phenom II X4 @ 2.6GHz 

Memory: 1 GB RAM 

Graphics: Intel HD Graphics 3000 or better 

DirectX: Version 10 

Network:BROADBAND INTERNET connection 

HardDRIVE: 1 GB available space 

Additional Notes: Graphics driver: OpenGL 3.2 or DirectX 10.0, Glyph Client, and registered Trion Worlds Account